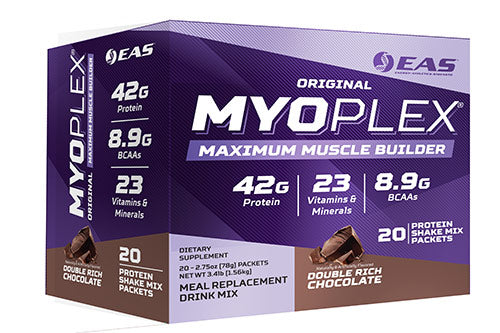 Myoplex Maximum Muscle Builder 20 Packets
FOR THOSE WHO SEEK TO BUILD MUSCLE THIS PRODUCT OFFERS:
42g of protein with a sustained-release amino acid profile, featuring a blend of rapid and slowly digested proteins, designed to promote muscle protein synthesis†
Includes 8.9g of branched chain amino acids (BCAAs).
Research shows that BCAAs help muscles recuperate after strenuous exercise and may help reduce exercise-induced muscle damage†
A blend of protein and carbohydrates designed to help repair and refuel muscles post-workout†
23 vitamins and minerals for daily nutrition
A good source of fiber for digestible health†
An excellent source of eight B-vitamins for energy and protein metabolism†
An excellent source of the antioxidant vitamins C and E, plus selenium for immune support†
ORIGINAL MYOPLEX® Nobody has the perfect diet and even the most health-conscious individuals don't have time to eat right at every meal. That's why there's EAS Myoplex® Original Shakes. The easy-to-use powdered shake supplement was one of the original meal replacement shakes on the market and is loaded with protein, vitamins and nutrients to help power you through your day. High-quality meal replacement shakes like Myoplex® have become a staple in today's busy world and are an indispensable weapon in the fight to stay in shape. You just can't beat a high-quality, protein-packed shake when it comes to nutrition and convenience.†
EAS Myoplex® shake was one of the first meal replacement shakes on the market and has enjoyed prolonged popularity. People keep coming back to Myoplex® Original because it has what customers are looking for in terms of nutrition, taste and value. The shakes include an incredible 42 grams of protein, which is sufficient for all users but the most extreme bodybuilders. The formula also includes 23 vitamins and minerals in sufficient amounts, but not so much that you need to (or should) stop taking your multivitamin. The powdered shake mix blends easily into milk, creating a creamy, easy-to-drink shake that's delicious and convenient. Because the formula is so easy to mix, you won't even need a blender. It also comes in the most popular flavors of vanilla and chocolate. Myoplex® Original is naturally 99 percent lactose-free, so almost anyone can use it. Don't let a busy lifestyle or demanding schedule chip away at your fitness by undermining your nutrition. It just takes a few minutes to mix up and drink an EAS Myoplex® protein shake. Use EAS Myoplex® shakes strategically when life gets busy or when you need a protein-packed boost to help power you through your day.†
†These statements have not been evaluated by the Food and Drug Administration. This product is not intended to diagnose, treat, cure or prevent any disease.
Directions
Combine the contents of each packet with 8 fl oz of cold water, milk or your favorite beverage and mix for 20-30 seconds in a shaker. Drink within 30 minutes after your workout. Also works as a snack or part of 5-6 smaller meals per day.