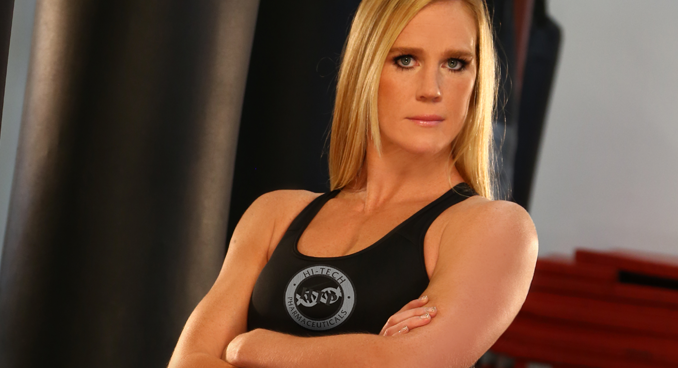 Hi-Tech Pharmaceuticals signs MMA World Champion Holly Holm to endorsement deal
NORCROSS, Ga., Jan. 11, 2016 /PRNewswire/ -- Hi-Tech Pharmaceuticals, a scientifically driven,  leading sports nutrition and supplement company, is proud to announce it has signed a multi-year endorsement deal with MMA World Champion Holly Holm. The New Mexico fighter known as 'The Preacher's Daughter,' was a force to be reckoned with during her boxing career before transitioning to MMA (Mixed Martial Arts)  full time two years ago. Holly was 33-2-3 as a pro boxer, winning titles for the WBF, WBAN, WBC, GBU, WIBA, IFBA, WBA and IBA  before joining the MMA ranks.
When it comes to sports supplements, Hi-Tech is one of the largest manufacturers in the world with products sold in most major retail chains across the globe, and now they are putting their support behind Holm ahead of her next MMA fight. "Holly takes her nutrition very, very seriously. You can't cut corners in her sport. She must align herself with the best in each field, and that is what she has done joining Hi-Tech's team. Hi-Tech's Brands of sports nutrition products and diet aids is leading the sports supplement industry  and has been in the business of helping elite athletes for 20 years," said Jared Wheat, President of Hi-Tech Pharmaceuticals. "Holly is breaking barriers in the MMA field and Hi-Tech has shattered multiple barriers in the nutrition field. It's a partnership of the two best in their respective fields".
Holm pulled off one of 2015's biggest upsets with a second-round head-kick knockout of heavy favorite and undefeated champion Ronda Rousey November 15th, 2015 at Etihad Stadium in Melbourne, Australia . Holm, a former and decorated pro boxer, simply dominated all aspects of the fight. Commenting on the announcement, Vice President of Brand Management, Anthony Presciano, stated, "Holly is an exceptional athlete and a proven winner with a rare ability to be a World-Champion in three different sports. Her work ethic combined with her relentless competitive drive make her an ideal fit for the Hi-Tech brands. We are excited for what the future holds for Holly and the Hi-Tech family of Brands."
Recently Forrest Griffin stated in an MMA Special rankings and year in review - biggest surprise of the year 2015, "now we have this Holly Holm..." and although Dana White previously said he should lose his promoters license if an immediate rematch between Holly Holm and Ronda Rousey is not booked, it appears Holm will indeed face another opponent before a potential second showdown with "Rowdy" and Hi-Tech will be there to lend its nutritional support.
About Hi-Tech Pharmaceuticals
Hi-Tech Pharmaceuticals (https://www.hitechpharma.com/index.htm) is a leading Sports Nutrition manufacturer. Since 1979, Hi-Tech Pharmaceuticals, Inc. and its sister company, Hi-Tech Nutraceuticals, LLC. have been providing quality custom manufacturing services to the pharmaceutical, dietary supplement and beverage industries. Hi-Tech Pharmaceuticals is a cGMP certified company that operates out of Four (4) US Production facilities and (2) Warehouses, totaling over 400,000 sq. ft. The two Georgia based production facilities are both located outside Atlanta in the Norcross and Suwanee Advanced Technology areas. Hi-Tech also has Two (2) facilities located outside State College, Pennsylvania. Hi-Tech holds a Drug Manufacturing License issued by the State of Pennsylvania Food and Drug Branch and is registered as a Food and Drug Establishment with the FDA in Pennsylvania.
Hi-Tech Pharmaceuticals is an enormously successful company that creates, manufactures and sells high-quality products sold by the large, major retailers across the United States. These retailers include: GNC, Rite Aid, Vitamin Shoppe, KMart, Albertson's, CVS, Meijer, Hannaford, Cardinal Health, McKesson, Mclain, Harmon Stores, Winn-Dixie, Supervalu, Roundy's, Sav-On Drugs, Fruth Pharmacy, Amazon.com, and over 5,000 independent drug stores, as well as in more than 80,000 convenience stores throughout the United States.
Hi-Tech remains true to the principals that the company was built on - innovation, quality and consistency, and will always be dedicated to ensuring that these principals remain uncompromised. Hi-Tech will continue to provide the finest-quality, innovative, science-based Sports Nutritional supplements and Diet & Energy Aids.
Other nutrition companies looking to increase scale, revenue, market share, and competitive advantage have also been active with mergers and acquisitions. Hi-Tech has been able to increase its market share in the United States through the acquisition of Florida-based Synergy Nutritional Industries in 2005, and gained a larger market share when it acquired Advanced Performance Supplements ("APS") in 2011. Hi-Tech gained further industry dominance when it acquired Nittany Pharmaceuticals in Pennsylvania and ALR Industries in California in 2012. Hi-Tech's recent strategy has been, and according to its leaders will continue to be, growth through M&A activity. In 2015, Hi-Tech has acquired Advanced Pharmaceuticals and Nutritionals, FormuTech Nutrition, Innovative Laboratories, Sports One, LG Sciences and with the most recent acquisition by Hi-Tech of iForce Nutrition was the sixth acquisition for Hi-Tech in 2015.