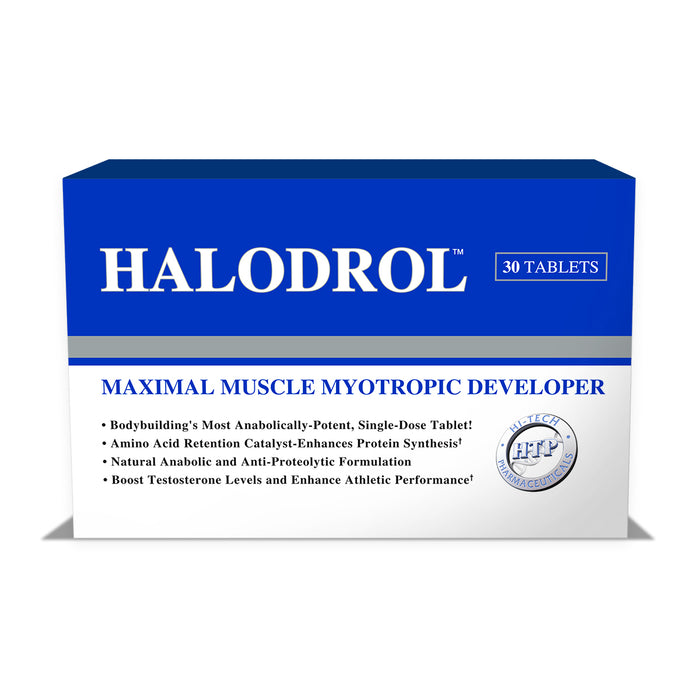 Halodrol™ Maximal Muscle Myotropic Developer
Bodybuilding's Most Anabolically-Potent, Single-Dose Tablet!
Formulated with Anabolic Agents, Including Legal Pro Hormone Esters
Amino Acid Catalytic Converter and Promotes Protein Synthesis
Natural Steroidal Anabolic and Anti-Proteolytic Formulation
Boost Testosterone Levels and/or Enhance Athletic Performance
Halodrol™ is the evolution and natural progression of unquestionably the most successful prohormone product of all time in the supplement industry. Hi-Tech Pharmaceuticals commissioned the brightest minds in the supplement industry to develop a suitable replacement for this very popular product that would yield results qualitatively and quantitatively similar to the old, Halodrol™. What Hi-Tech Pharmaceuticals has created is quite possibly the most scientifically advanced and well thought out sports nutrition product ever to be seen in the supplement industry — Halodrol™. 
Hi-Tech Pharmaceuticals brings to market the most potent — patented, "cutting-edge" legal bodybuilding prohormone available today. Halodrol™  utilizes 4-androstene-3b-ol, 17-one, which has been shown to convert to Testosterone. 4 androstene-3b-ol, 17-one is a naturally occurring DHEA isomer. It's structure closely resembles regular DHEA but the double bond is in the 4th position, which dramatically changes its effects. The new kid on the block — 4 androstene-3b-ol, 17-one (4-ANDRO). may be the strongest of the all the "4" series compounds.
 Halodrol™ also contains 1-androstene-3b-ol-17-one (1-ANDRO), which is based upon a naturally occurring metabolite for many animals including man, that has properties far different from standard testosterone in the body. 1-ANDRO is more of a mild hormone that will give you cleaner gains and dramatic strength increases. Very few dietary supplements have been subjected to a clinical study. However, the active prohormone 1-androstene-3b-ol-17-one was the subject of a clinical study at West Texas A&M University, the California Baptist University and the University of Texas at Austin. The results showed 1-androstene-3b-ol-17-one to be significantly more powerful than it would appear structurally. The 9 males gained an average lean mass of 10.4 lbs. and an increase in strength of 92.2 lbs in total load on bench/squat/deadlift. 
Halodrol™ really thrusts bodybuilding supplementation into a new era with the most anabolically-potent, single-dose tablet ever created for bodybuilders. Among its numerous obscure anabolic compounds, Halodrol™ contains the highest dosage of anabolic compounds to be found anywhere! Hi-Tech Pharmaceuticals has included this high dosage of 1-androstene-3b-ol-17-one, 4-androstene-3b-ol-17-one, Androstenolone Acetate, Androsterone, and Rhaponticum Carthamoides 100:1 extract to ensure that just one tablet alone surpasses the threshold level required for a truly efficacious anabolic response.
SUPPLEMENT FACTS
Cyclosome Coating
Hi-Tech Pharmaceuticals is an Innovator in the Bodybuilding and Prohormone industry being one of the first companies to introduce many of the prohormones that have entered the marketplace over the last decade. Researchers at Hi-Tech recently developed a proprietary process called Cyclosome™ Technology. This one-of-a-kind technology brought to you by the leaders in Prohormones involves the entrapment of hydrophobic prohormones and other Testosterone boosting compounds in the form of water-soluble Prohormone–cyclodextrin (CD) complex in liposomes has been investigated as a new strategy to combine the relative advantages of CDs and liposomes into one system, namely Prohormone-in-CD-in-liposome systems called Cyclosome's™. You can think of all this in terms of a 'Trojan Horse,' passing through the liver unharmed and intact. As opposed to being destroyed in the liver like all other hormonal products on the market, past and present. This new Cyclosome™ technology allows the 'Trojan Horse' to deliver prohormones and testosterone boosters to the systemic circulation by the intestinal lymphatic route, circumventing first-pass inactivation in the liver for the very first time. Almost all previous Oral capsules and tablets manufactured to increase testosterone — including Testosterone itself — are involved in the "first pass affect" which renders the active compounds virtually useless.

Cyclosome™ Technology — the most advanced liposomal delivery technology ever developed for bioavailability is the answer to getting poorly absorbed Testosterone boosting compounds and legal prohormones into the body so they can work !

For Cyclosome™ preparation, an overall understanding of the interaction between CDs and lipid Using Cycloplex Pro-Hormones components of liposomes is necessary for this complex. Hi-Tech has developed a Double-loading technique, which is a revolutionary strategy to prohormone release and increase prohormone-loading capacity. The Cyclosome™ approach can be useful in increasing prohormone solubility and vesicles stability, in controlling the in vivo fate of hydrophobic compounds and in avoiding burst release of prohormones from the vesicles. To obtain a stable Cyclosome™, the CDs should have a higher affinity to prohormone molecules compared with liposomal membrane lipids. Cyclosomes prepared by Hi-Tech's double-loading technique are the most advanced targeted prohormone delivery system ever developed because they have a fast onset action with prolonged prohormone release process and the significantly enhanced prohormone-loading capacity.
These statements have not been evaluated by the Food and Drug Administration. This product is not intended to treat, cure, diagnose, or prevent any disease. 
This product should not be used in place of or as a substitute for recommendations by your healthcare professional. No clinical study has been performed on Lipodrene®. These statements are based upon the active ingredients: Senegalia Berlandieri, Ephedra, Theobromine, Yohimbe, Citrus aurantium, Caffeine, Green tea, 5-HTP, 5-methoxytryptamine and Phenylethylamine.
SUGGESTED USE
As a dietary supplement, take on tablet 30 minutes prior to training.  On non-training days take one tablet in the morning or afternoon.  No not exceed 2 tablets per day.