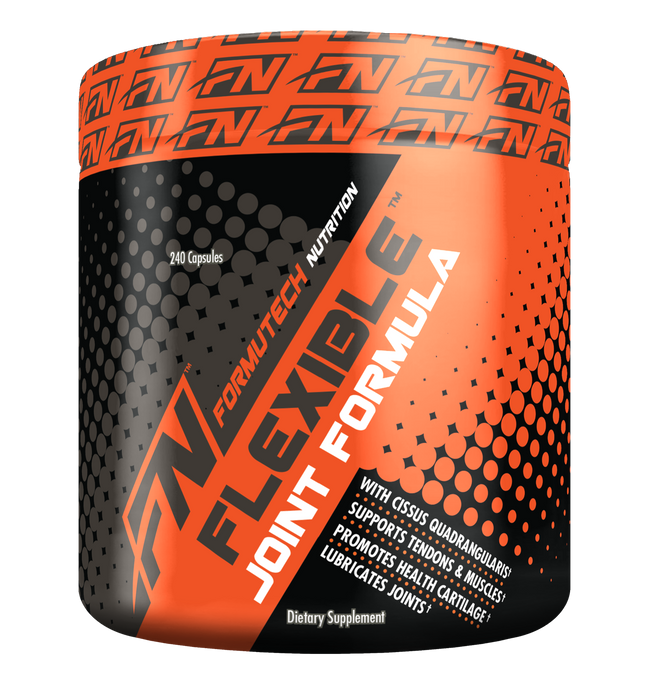 FLEXIBLE™
Supports Healthy Bone Development
Improves Connective Tissue Health
Advocates a Healthy Inflammatory Response
Promotes Uptake of Sulfates
The harder we train, the harder we play and even as we age, joint problems plague most athletes and weekend warriors. Sore shoulders, knees, and ankles lead the list of health issues facing most any active person. Finding a complete approach to healthy joints is what FLEXIBLE™ by Formutech Nutrition is all about. Providing a well-rounded supplement approach for our bones, connective tissues and joints is what FLEXIBLE™ was created for. FLEXIBLE™ contains the newest and most proven ingredients available today: Cissus Quadrangularis and Hyaluronic Acid along with Glucosamine Sulfate, Chondroitin Sulfate and organic MSM make FLEXIBLE™ one of the most compete joint support formulas on the market.
Why we added Cissus Quadrangularis?
Reduces bone injury and accelerate bone healing*
Supports tendons and muscles*
Reduces pain and acts as an anti-inflammatory*
Shown to assist in fat loss and building lean muscle*
Why we added Hyaluronic Acid?
Increases the synovial fluid that bathes the joints and cartilage*
Acts as a cushion and lubricant in the joints and other tissues*
Affects the way the body responds to injury*
Maintains and regulates moisture within tissues*
Facilitates the transport of nutrients into cells and removal of metabolic waste*
Cissus Quadrangularis – Ease Joint Discomfort | Hyaluronic Acid – Supports Joint Mobility | Glucosamine Sulfate – Increased Joint Resiliency
SUPPLEMENT FACTS
SUGGESTED USE
Take 4 capsules in the morning, preferably with a meal. For greatest benefit take 4 additional capsules at lunch, preferably with a meal.