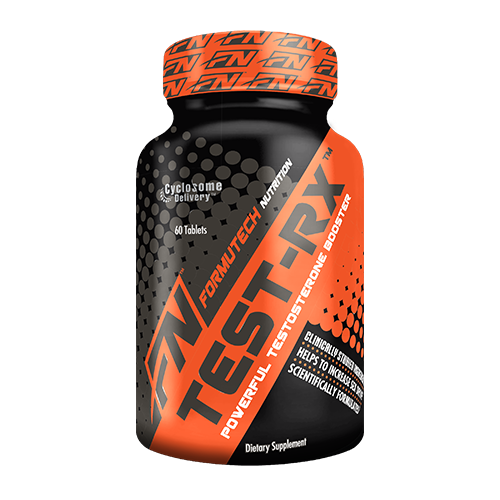 Increase Strength and Lean Muscle Mass
Extreme Anabolic Formula for Rapid Results
Precise Androgenic and Estrogenic Activity
Long Lasting Stamina 
TEST-RX® Testosterone Booster is a new, revolutionary prohormone from FormuTech that can provide the support you need to produce rapid, muscular results. Increase strength and lean muscle mass unlike ever before. This unique product is an extremely anabolic formulation with precise amounts of androgenic and estrogenic activities which will help lead you to massive gains, strength, and long lasting stamina.
 Cyclosome™ Technology is the answer to getting poorly absorbed Testosterone boosting compounds and legal Prohormones into the body so they can work. The pharmaceutical industry has embraced this cutting-edge technology in recent years and now TEST-RX™ is one of the first to utilize it in a testosterone booster and anabolic agent. 
Dioscorea Nipponica Makino
DHEA Acetate
Andrographis Extract
Epiandrosterone
Moluasca Powder
Anacyclus Pyrethrum Extract
SUPPLEMENT FACTS
SUGGESTED USE
Take 1 tablet 2 times daily. Do not exceed 4 tablets per day