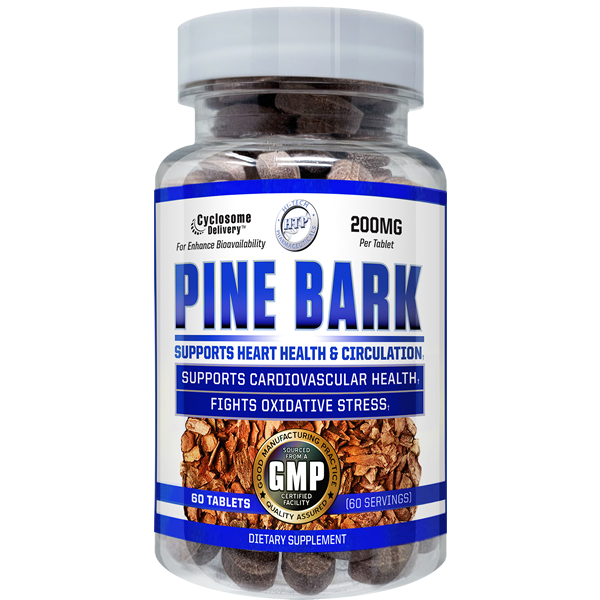 Boost Antioxidant Abilities
Improved Blood Flow for Erectile Dysfunction
Immune System Support
Improved Brain Function
Cyclosome Delivery™
Immune health and maintenance comes in many forms. Hi-Tech Pharmaceuticals brings you several  different options, but Pine Bark may be the most efficient and least well known of all. Besides being an excellent source for Vitamin C, Pine Bark possesses numerous phytochemicals that can help support a heathier you. This unique compound contains proanthocyanins, powerful antioxidant compounds that are felt to be more powerful than Vitamin C and E, which can provide wide ranging added health benefits. Among them is improved brain function and has the ability to reduce Cytokines, which are the foundation for inflammation. Research has also shown many promising ideas, most important of which may be that the compounds in Pine Bark were able to reduce the severity and duration of common colds by many days.
Cyclosome is a phospholipid encapsulating method that allows the tablet to pass further through the gut and allowing a larger percentage of the ingredient to absorbed into the bloodstream instead of being destroyed in our gut. The more ingredient absorbed into our bloodstream, the greater affect it can have on our overall health.
These statements have not been evaluated by the Food and Drug Administration. This product is not intended to treat, cure, diagnose, or prevent any disease. This product should not be used in place of or as a substitute for recommendations by your healthcare professional.
SUPPLEMENT FACTS
Cyclosome™ Delivery:
As our understanding and discovery of new ingredients expands in our industry, the need for new and novel ways to deliver the highest and safest bioavailable ingredients also increases. In the past many companies created simple coatings that provided a brief comfort to the user's gut and only a small amount of usable ingredients making its way into the bloodstream. With the proprietary oral delivery system in Cyclosome™ Technology, Hi-Tech Pharmaceuticals is changing how well your body will be able to utilize compounds with terrific promise.
Researchers at Hi-Tech recently developed this Cyclosome™ proprietary process. This one-of-a-kind technology involves the entrapment of hydrophobic compounds in the form of water-soluble cyclodextrin (CD) complex in liposomes. This breakthrough technology has been investigated as a new strategy to combine the advantages of our Cyclosome™ Technology. This novel process changes all of that in Hi-Tech Pharmaceuticals complete Wellness Line of daily use products.
This new technology allows the delivery of a wide array of ingredients to the systemic circulation by the intestinal lymphatic route, circumventing first-pass inactivation in the liver for the very first time. Long gone are the days of overdosing products in an attempt to improve our bodies ability to utilize as much of the ingredient as possible without being destroyed by our digestive track or liver.
SUGGESTED USE
Take one (1) one or two (2) tablets daily, preferably at mealtimes, or as directed by a healthcare practitioner.