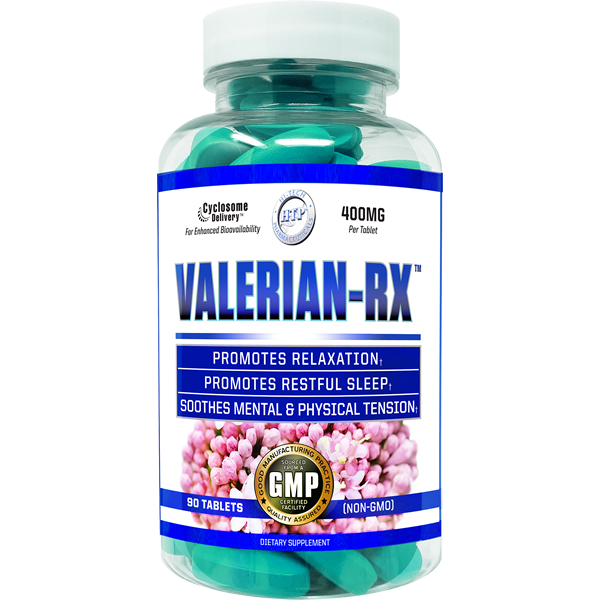 Inhibits Enzyme-Induced Breakdown of GABA
Improves Sleep Quality and Duration in Clinical Studies
Contains Valepotriates Not Found in Other Inferior Products
Improved Downregulation of the CNS Resulting in Relaxation
Used for more than 2,000 years by the Greeks for its amazing qualities, Valerian root has been shown to promote sleep, improve quality of sleep in what is described as the feeling of a mild sedative, leading to the feeling of reduced anxiety. 
Hi-Tech has seized the opportunity to utilize a proprietary extract process which increases valerian's ability to enhance the signaling of GABA, which is one of the main sedative neurotransmitters. GABA slows down nerve cell activity instead of exciting it. Research shows that Valerian extract, specifically Valepotriates, may block an enzyme that destroys GABA, which means that more GABA is available for a longer amount of time. Valerian-Rx™  offers a safe, natural means of relaxation and the ability to get a longer, better night of sleep and awaken rested and recovered.
These statements have not been evaluated by the Food and Drug Administration. This product is not intended to treat, cure, diagnose, or prevent any disease. This product should not be used in place of or as a substitute for recommendations by your healthcare professional.

SUPPLEMENT FACTS
Cyclosome™ Delivery:
As our understanding and discovery of new ingredients expands in our industry, the need for new and novel ways to deliver the highest and safest bioavailable ingredients also increases. In the past many companies created simple coatings that provided a brief comfort to the user's gut and only a small amount of usable ingredients making its way into the bloodstream. With the proprietary oral delivery system in Cyclosome™ Technology, Hi-Tech Pharmaceuticals is changing how well your body will be able to utilize compounds with terrific promise.
Researchers at Hi-Tech recently developed this Cyclosome™ proprietary process. This one-of-a-kind technology involves the entrapment of hydrophobic compounds in the form of water-soluble cyclodextrin (CD) complex in liposomes. This breakthrough technology has been investigated as a new strategy to combine the advantages of our Cyclosome™ Technology. This novel process changes all of that in Hi-Tech Pharmaceuticals complete Wellness Line of daily use products.
This new technology allows the delivery of a wide array of ingredients to the systemic circulation by the intestinal lymphatic route, circumventing first-pass inactivation in the liver for the very first time. Long gone are the days of overdosing products in an attempt to improve our bodies ability to utilize as much of the ingredient as possible without being destroyed by our digestive track or liver.
SUGGESTED USE
Take 1-2 tablets for relaxation.  Take on  hour before bedtime.  Do not exceed more than 3 tablets in a 24 hour period.