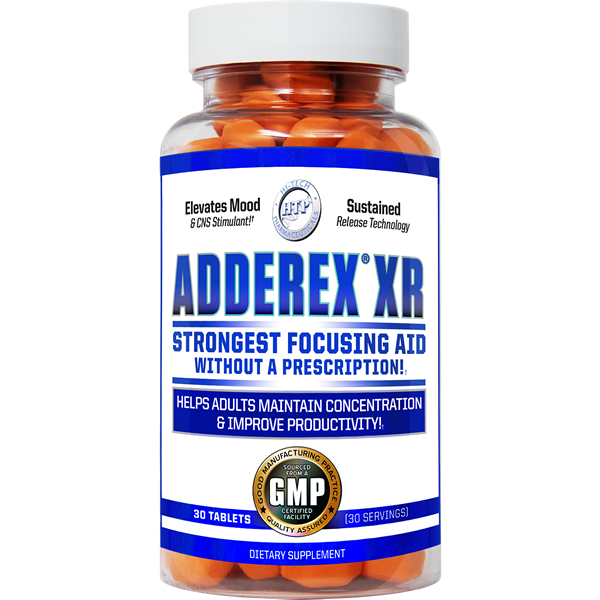 Strongest Focus Aid Without a Prescription
Supports Increased Concentration & Focus
Improved Motivation & Productivity
Provides a Powerful Mood Boost
SUPPLEMENT FACTS
Hi-Tech Pharmaceuticals has developed Adderex®, the elite focusing nutraceutical that is a CNS stimulant centered around the newest realized forms of phenylethylamine alkaloids. Adderex® includes "Rapid Release" and "Extended Release" technologies that ensure lasting energy for the workplace, school or whatever sports requires energy and elite concentration. These two delivery methods are why Adderex® provides such an exceptionally quick yet very long-lasting stimulant feeling without the 'stimulants of the past crash' of energy at the end of the day. Smooth clean and usable energy with the same slow rate of waning energy at the end of the day, just when you need it. 
Adderex® promotes mental focus with improved concentration while encouraging healthy cognitive function. This product provides precursors of neurotransmitters that aid in the reduction of brain imbalances and dysfunction. Hi-Tech's Adderex® uses phenylethylamine alkaloids from Senegalia Berlandieri in this formula in order to produce a stimulant effect on the central nervous system by acting as a neurotransmitter. Phenylethylamine has similar effects to amphetamine, which is found in most prescription ADHD regimens. Phenylethylamine works in this product by stimulating the release of dopamine and norepinephrine, which then helps improve mood, memory, and mental focus. Adderex® is a one-of-a-kind nutraceutical for laser focus and concentration!
These statements have not been evaluated by the Food and Drug Administration. This product is not intended to treat, cure, diagnose, or prevent any disease. This product should not be used in place of or as a substitute for recommendations by your healthcare professional.
WARNING:
Not for use by individuals under the age of 18 years. Do not use if you are pregnant or nursing. Talk to your doctor about this product. Individuals who consume caffeine with this product may experience serious adverse health effects. Individuals who are sensitive to the effects of caffeine should consult a licensed health care professional before consuming this product. Do not consume synephrine or caffeine from other sources, included but not limited to: coffee, tea, soda or other dietary products or medication containing caffeine or phenylephrine. Do not use for more than 8 weeks. Consult with your physician prior to use if you are taking medication, including but not limited to MAOI inhibitors, aspirin, antidepressants, nonsteroidal anti-inflamatory drugs or products containing phenylephrine, ephedrine, pseudoephedrine, or other stimulants. Consult your physician prior to use if you have a medical condition, including but not limited to: heart, liver, kidney, or thyroid disease, psychiatric or seizure disorders, difficulty urinating, diabetes, high blood pressure, cardiac arrhythmia, recurrent headaches, enlarged prostate or glaucoma. Discontinue 2 weeks prior to surgery or if you experience rapid heart beat, dizziness, severe headache or shortness of breath. In case of accidental overdose, seek professional assistance or contact a poison control center immediately. Avoid alcohol while taking this product. Exceeding recommended serving may cause serious adverse health effects, including heart attack and stroke. Improper use of this product may be hazardous to a person's health.
SUGGESTED USE
Take one (1) tablet in the morning and one (1) tablet after lunch if needed. Do not exceed 2 tablets daily.


To report adverse effects call FDA's MedWatch at 1-800-332-1088