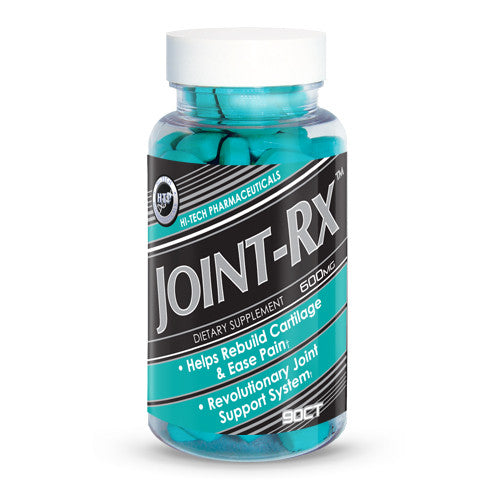 Revolutionary Joint Support System
Supports Joint Tissue Growth and Regeneration
One-of-a-kind Nutraceutical
The massive controversy in recent years about the safety of joint health products, coupled with the increasingly soaring costs of healthcare and medications, has resulted in the public crying out for nutritional remedies for optimum joint health (annual sales of joint care products has surpassed $1billion). Joint-Rx™ is a multi-modal Hi-Tech Healthcare supplement designed to respond to the public outcry for a safe and effective nutraceutical for joint health.
SUPPLEMENT FACTS
THE SCIENCE
Crystalline glucosamine HCl, low molecular weight (LMW) chondroitin sulfate (glucosamine and chondroitin are more effective when taken together), and methylsulfonylmethane (MSM) are included in Joint-Rx™…and for good reason! Crystalline glucosamine HCl is stabilized to facilitate maximum absorption and provides an underlying structural foundation for joints. Glucosamine stimulates the manufacturing of glucosaminoglycans, which are important components of cartilage, and also cartilage producing cells (chondrocytes) to build new cartilage. Aging results in the decreased production of glucosamine and an inability to produce sufficient amounts. Since there is no food source for glucosamine, supplementation is essential. Joint-Rx™ also contains low molecular weight (LMW) chondroitin sulfate to ensure optimal absorption (most chondroitin products contain a less expensive, higher molecular weight chondroitin that is poorly absorbed). Chondroitin provides the structural components of joint cartilage and facilitates the entry of glucosamine into joints. MSM is also included in Joint-Rx™ to provide strengthening of connective tissue in tendons and cartilage. All three of these important joint support ingredients are pivotal compounds that must be at the core of any truly effective joint health formulation. Joint-Rx™ contains all three of these amazing nutraceuticals.
Many typical joint products do not contain all three of these essential compounds. Moreover, they often fail to provide therapeutic amounts of at least one of the ingredients or substandard materials are used. For typical joint products, the story usually ends with glucosamine, chondroitin, and MSM...but not with Joint-Rx™. In addition to these three core joint support agents, Joint-Rx™ does not stop with these 3 compounds, but also contains many more, including: Curcuma longa extract (curcumin), Boswellia serrata extract, Nexrutine® (a patented form of extract from Phellodendron amurense), Humulus lupulus (hops), and S-adenosyl-L-methionine (SAMe). These compounds help joint mobility due to the daily wear and tear we put on our body. Curcumin (the active ingredient in the spice turmeric) provides immediate joint discomfort relief by decreasing inflammation. Boswellia serrata (the active ingredient is boswellic acid) interferes with the inflammatory cascade reaction produced by the 5-lipoxygenase enzyme. Nexrutine® is a selective COX-2 enzyme inhibitor, which means that while it takes on the COX-2 enzyme, it stands down on the beneficial COX-1 enzyme. Nexrutine® actually inhibits the production of the COX-2 enzyme, which effectively shuts off the inflammation problem at its source.
Joint products are not just for older people. Weight training, running, recreational athletics, or even just leading a healthy active lifestyle, have been shown to initiate inflammatory processes that not only cause destruction of joint tissue, but also inhibit its rebuilding. Therefore, it is essential for young adults to also use the cutting-edge, comprehensive technology in Joint-Rx™ for the support of healthy joints to protect from a future of joint discomfort and other joint health complications.
These statements have not been evaluated by the Food and Drug Administration. This product is not intended to treat, cure, diagnose, or prevent any disease. This product should not be used in place of or as a substitute for recommendations by your healthcare professional. No clinical study has been performed on Joint-Rx™. These statements are based on the active ingredients: Chondroitin sulphate, Clucosamine HCl, SAMe, Phellodendron, MSM, Curcumin, and Boswellia.
SUGGESTED USE
Take 1 tablet 3 times daily.  This product is best taken near mealtime.