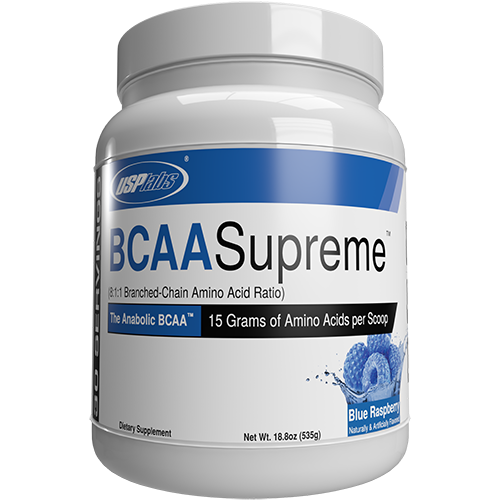 Increases Muscle Growth*
Promotes Muscle Recovery*
Decreases Muscle Soreness*
Prevents Muscle Breakdown*
Touted as the best BCAA on the market BCAA Supreme™— this amazing formula gives you 15 grams of powerful amino acids per serving. No other supplement is designed like this one. Perfect for bodybuilders and athletes looking to increase their strength, improve endurance, and performance. Formulated with electrolytes and patented with L-alanyl-L-glutamine to produce a better BCAA. The ultimate supplement to take throughout your workout to release unmatched endurance and performance. An exclusive 8:1:1 leucine, isoleucine, valine BCAA ratio, and a unique no-caffeine, ultra-micronized formula defies every other BCAA supplement in the market.
Essential amino acids are those that cannot be synthesized by the body and must therefore be supplied in the foods and supplements we consume. Of all EAAs, the branched-chain amino acids — leucine, isoleucine, and valine — have received the most attention as bodybuilding supplements because they make up approximately one-third of muscle protein. They are released from skeletal muscle and catabolized (broken down) during exercise and in cases of injury to be used for energy and tissue repair. Early studies showed that supplementing with BCAAs slows catabolism during exercise and boosts anabolism during recovery.