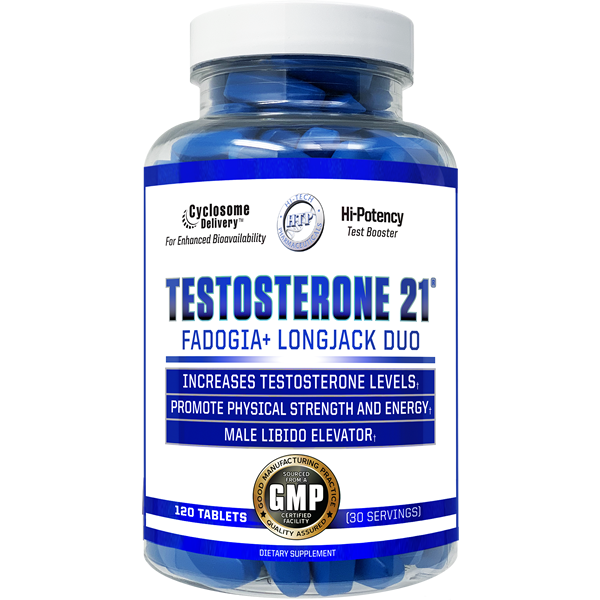 Increases Testosterone Levels
Promotes Physical Strength and Energy
Male Libido Elevator
TESTOSTERONE 21® is a testosterone booster for men that provides a proprietary powerhouse formula to support increased testosterone production, improved strength and physical performance. TESTOSTERONE 21® will help build lean muscle and enhanced stamina and libido! This brand new product  contains the highest grade extracts at potent dosages of both Fadogia and Longjack which are known to boost testosterone levels to a point that you feel 21 again! Tongkat Ali, also known as Longjack, has been shown to support male hormonal balance (including testosterone availability), libido and performance, according to recent studies. A study evaluating the testosterone promoting benefits of Tongkat Ali also discovered higher levels of energy and physical strength among athletes taking a Tongkat Ali supplement compared to those not taking the supplement. Fadogia Agrestus (1,200mg per serving), has been shown to increase levels of testosterone in blood with 5 days of daily oral administration! Fadogia Agrestus increases total and free testosterone levels, as well as helping athletes recover from strenuous exercise. TESTOSTERONE 21® with Tongkat Ali 100:1 extract and Fadogia Agrestris 20:1 extract helps increase your body's total and free testosterone! TESTOSTERONE 21® also contains 600mg of the premium Ashwagandha extract--KSM-66®, which can promote muscle mass, muscle strength, and reduce cortisol.†


*These statements have not been evaluated by the Food and Drug Administration.  This product is not intended to diagnose, treat, cure, or prevent any disease.
SUPPLEMENT FACTS
CYCLOSOME™ DELIVERY
Cyclosome™ Delivery: 
As our understanding and discovery of new ingredients expands in our industry, the need for new and novel ways to deliver the highest and safest bioavailable ingredients also increases. In the past many companies created simple coatings that provided a brief comfort to the user's gut and only a small amount of usable ingredients making its way into the bloodstream. With the proprietary oral delivery system in Cyclosome™ Technology, Hi-Tech Pharmaceuticals is changing how well your body will be able to utilize compounds with terrific promise.
Researchers at Hi-Tech recently developed this Cyclosome™ proprietary process. This one-of-a-kind technology involves the entrapment of hydrophobic compounds in the form of water-soluble cyclodextrin (CD) complex in liposomes. This breakthrough technology has been investigated as a new strategy to combine the advantages of our Cyclosome™ Technology. This novel process changes all of that in Hi-Tech Pharmaceuticals complete Wellness Line of daily use products.
This new technology allows the delivery of a wide array of ingredients to the systemic circulation by the intestinal lymphatic route, circumventing first-pass inactivation in the liver for the very first time. Long gone are the days of overdosing products in an attempt to improve our bodies ability to utilize as much of the ingredient as possible without being destroyed by our digestive track or liver.
SUGGESTED USE
Take two (2) tablets twice daily with meals.  Optimal effectiveness should be felt within 1 to 3 weeks.
SUGGESTED USE
This product is intended for use by adult men only.  If you are taking any prescription medications or have conditions such as breast or prostate cancer, benign prostate hypertrophy, or thyroid disease, consult your healthcare professional before using this product.  Keep out of the reach of children.