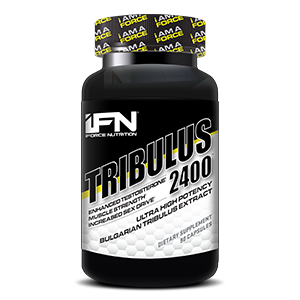 This powerful formula, Tribulus 2400, features a specific form of Bulgarian Tribulus Terrestris, known for superior amounts of active saponins and protodioscin. Saponins and protodioscin are claimed to have the ability to promote rapid testosterone production and muscle gains! By having high levels of these anabolic compounds, it may be possible to put your body in an anabolic state both night and day.
Tribulus purported to enhance the production of luteinizing hormone, or LH. LH performs many functions including sex drive and sexual stamina. LH is also a direct indicator of testosterone production. By augmenting the output of LH your body will also improve its output of testosterone. Elevated testosterone levels support increased muscle mass and strength, and also help recovery and endurance.

Chief Benefits:
Increased Testosterone & Leutinizing Hormone Production
Augments Sex Drive
Boost Muscle Strength & Power
SUPPLEMENT FACTS
SUGGESTED USE
Take 1 capsule upon waking, 1 capsule mid-day, and 1 capsule prior to sleep. Continue use for 8-12 weeks.