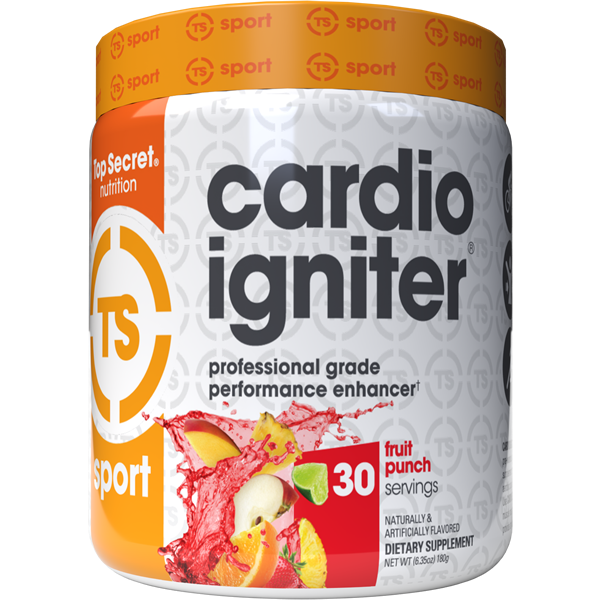 CARDIO IGNITER® is a new type of pre-workout, performance-enhancing supplement that focuses on supporting aerobic capacity and losing weight.
Use CARDIO IGNITER® to protect lean muscle mass, support weight loss, and
provide long lasting energy.
Supplement Facts
Suggested Use
Mix one (1) scoop with 8-12 oz. of cold water 20-30 minutes before training.
Begin with one (1) scoop to assess your tolerance. Increase servings to no more than (2) two scoops per day for desired effect. This is a stimulant based supplement, always check with a physician or health care provider prior to taking supplements and exercising.
Warning
Not intended for use by persons under age 18. Do not exceed recommended dose. Do not consume synephrine or caffeine from other sources, including but not limited to: coffee, tea, soda and other dietary supplements or medications containing phenylephrine or caffeine. Contains caffeine. Do not use for more than 8 weeks. Do not use if you are pregnant, nursing or contemplating becoming pregnant. Consult with your physician prior to use if you are taking medication, including but not limited to: MAO inhibitors, antidepressants, aspirin, nonsteroidal anti-inflammatory drugs or products containing phylephrine, ephedrine, pseudoephedrine, or other stimulants. Consult your physician prior to use if you have a medical condition, including but not limited to: heart, liver, kidney, or thyroid disease, psychiatric or epileptic disorders, difficulty urinating, diabetes, high blood pressure, cardiac arrhythmia, recurrent headaches, enlarged prostate or glaucoma. Discontinue 2 weeks prior to surgery or if you experience rapid heartbeat, dizziness, severe headache or shortness of breath. STORE IN A COOL, DRY PLACE.