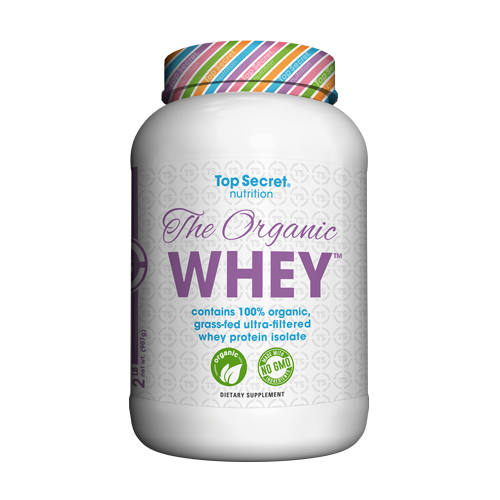 The Organic Whey is the best organic, grass fed whey protein powder on the market. Top Secret Nutrition sources the raw organic, non GMO whey protein concentrate exclusively from grass fed cows raised on California family farms and carefully craft each batch without any unnecessary ingredients. Their diet consists of a variety of wild grasses and clover - producing milk rich in omega-3s and CLAs. * The result is a deliciously creamy whey protein that has the highest protein concentration among natural grass-fed whey powders. We ensure that these cows are raised without hormones, antibiotics, steroids, or genetically modified feed. *
Most whey is heat processed which makes it acidic and nutritionally deficient. Top Secret The Organic Whey only uses cold processing and not high heat, which damages the amino acids and nutrients that give whey its immune supporting qualities.* The Organic Whey is an all-natural whey protein is processed by low temperature ultrafiltration to limit denaturation of the proteins, and is both bioavailable and easily digested and helps to protect the nutrients and keep them in their natural state.* Whey protein also has naturally occurring Branched Chain Amino Acids (BCAA's).
The Organic Whey Grass Fed Protein contains No Added Hormones
28 g Whey Protein Ultrafiltered,Free of rBGH and Antibiotics
5 g Naturally Occurring BCAAs
4 g or more of Naturally Occurring Glutamine and Glutamic Acid
Mixes Easily
Non-GMO
The Organic Whey is ultra High Quality Whey Protein – Delicious Natural Creamy Taste!
The Organic Whey has the highest protein concentration among natural/organic whey powders.* It is higher in antioxidants and other nutrients than conventional whey powders.* Enjoy the natural, creamy taste of The Organic Whey with its purity and its best in taste flavors developed by a leading flavor chemist. These qualities make Top Secrets The Organic Whey ideal for active individuals seeking the most natural and wholesome protein for themselves and their families. Whey protein is considered to have the highest Biological Value of any protein source - superior in essential amino acid content to beef, milk, casein or soy. Try The Organic Whey and see why its America's best kept protein secret!