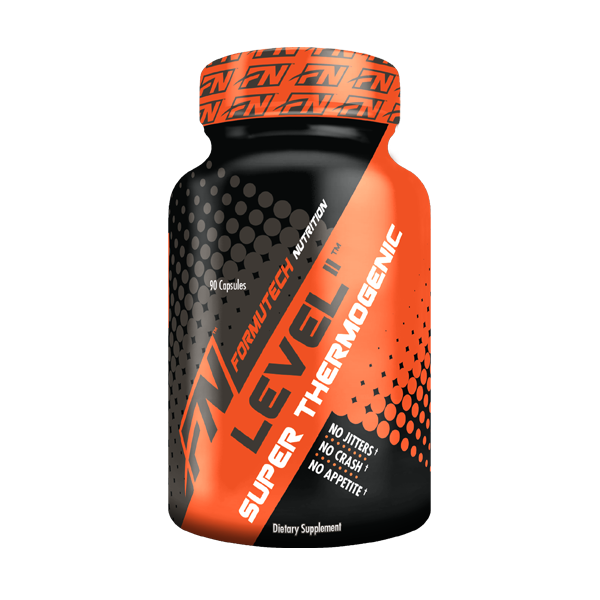 LEVEL II™ helps you manage your appetite so you get the figure back that you have been chasing for years.  The innovative formula of LEVEL™ II boasts your metabolism into over drive with it's super thermogenic combination!  The outstanding appetite suppression in LEVEL II™ reinforces your discipline to help you eat clean.  Only 2 capsules of  LEVEL II™  in the morning contains the right amount of clean energy keeping you alert all day without jitters.
SUPPLEMENT FACTS
WARNING: NOT FOR USE BY INDIVIDUALS UNDER THE AGE OF 18 YEARS. DO NOT USE IF YOU ARE PREGNANT OR NURSING. THIS PRODUCT CAN RAISE BLOOD PRESSURE AND INTERFERE WITH OTHER DRUGS YOU MAY BE TAKING. TALK TO YOUR DOCTOR ABOUT THIS PRODUCT.

SALE TO PERSONS 17 YEARS OF AGE OR YOUNGER IS PROHIBITED.

INDIVIDUALS WHO CONSUME CAFFEINE WITH THIS PRODUCT MAY EXPERIENCE SERIOUS ADVERSE HEALTH EFFECTS. INDIVIDUALS WHO ARE SENSITIVE TO THE EFFECTS OF CAFFEINE SHOULD CONSULT A LICENSED HEALTH CARE PROFESSIONAL BEFORE CONSUMING THIS PRODUCT. DO NOT CONSUME SYNEPHRINE OR CAFFEINE FROM OTHER SOURCES, INCLUDING BUT NOT LIMITED
TO, COFFEE, TEA, SODA OR OTHER DIETARY PRODUCTS OR MEDICATIONS CONTAINING CAFFEINE OR PHENYLEPHRINE. DO NOT USE FOR MORE THAN 8 WEEKS. CONSULT WITH YOUR PHYSICIAN PRIOR TO USE IF YOU ARE TAKING MEDICATION, INCLUDING BUT NOT LIMITED TO MAOI INHIBITORS, ASPIRIN, ANTIDEPRESSANTS, NON-STEROIDAL ANTI-INFLAMMATORY DRUGS OR PRODUCTS CONTAINING PHENYLEPHRINE, EPHEDRINE, PSEUDO-EPHEDRINE, OR OTHER STIMULANTS. CONSULT YOUR PHYSICIAN PRIOR TO USE IF YOU HAVE A MEDICAL CONDITION, INCLUDING BUT NOT LIMITED TO, HEART, LIVER, KIDNEY, OR THYROID DISEASE, PSYCHIATRIC OR EPILEPTIC DISORDERS, DIFFICULTY URINATING, DIABETES, HIGH BLOOD PRESSURE, CARDIAC ARRHYTHMIA, RECURRENT HEADACHES, ENLARGED PROSTATE OR GLAUCOMA. DISCONTINUE 2 WEEKS PRIOR TO SURGERY OR IF YOU EXPERIENCE RAPID HEART BEAT, DIZZINESS, SEVERE HEADACHE OR SHORTNESS OF BREATH. IN CASE OF ACCIDENTAL OVERDOSE, SEEK PROFESSIONAL ASSISTANCE OR CONTACT A POISON CONTROL CENTER IMMEDIATELY. AVOID ALCOHOL WHILE TAKING THIS PRODUCT. EXCEEDING RECOMMENDED SERVING MAY CAUSE SERIOUS ADVERSE HEALTH EFFECTS, INCLUDING HEART ATTACK AND STROKE. IMPROPER USE OF THIS PRODUCT MAY BE HAZARDOUS TO A PERSON'S HEALTH.


SUGGESTED USE
To assess tolerance take One (1) capsule upon waking. Do not exceed To (2) capsules per day. Do not take too late in the day.