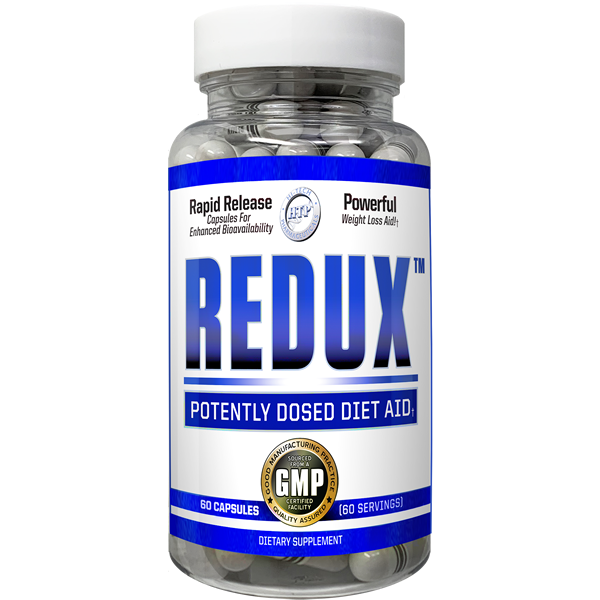 Redux™
Potentiates Rapid Weight Loss
Powerful Aggressive Components
Powered Energy
Improved and Enhanced Mood
Redux™ is back ladies and gentlemen and this time with an attitude problem. Take your diet to the next level with a potent dose of the industry's top weight loss ingredients. Gone are the days of playing it conservative when it comes to our weight loss goals. Today, we go aggressive, combining several top stimulants, mood enhancers, and anabolic amplifiers which will get your body into high gear helping you drop weight quicker and easier than ever before. 
We loaded Redux™ with a who's who of popular and highly powerful stimulants. This ingredient alone can help reduce food cravings, turn up your internal thermostat and help you expend calories at the highest possible rate. But instead of ending it there, we kept going by adding five more stimulants into the mix all of which will keep you going while tuning your mental acuity razor sharp. 

Redux™ is recommended for both men and women looking to get leaner and more toned than ever before. Please remember, no weight loss supplement, even as potent as Redux™ will replace a lousy diet and poor exercise program. Like most supplements, the power in Redux is only magnified when the user is firing on all cylinders with diet and training. If you want real results, the ones you'd do anything for - take Redux™, but bust your ass too!

SUPPLEMENT FACTS
WARNING: NOT FOR USE BY INDIVIDUALS UNDER THE AGE OF 18 YEARS. DO NOT USE IF YOU ARE PREGNANT OR NURSING. THIS PRODUCT CAN RAISE BLOOD PRESSURE AND INTERFERE WITH OTHER DRUGS YOU MAY BE TAKING. TALK TO YOUR DOCTOR ABOUT THIS PRODUCT.

SALE TO PERSONS 17 YEARS OF AGE OR YOUNGER IS PROHIBITED.

INDIVIDUALS WHO CONSUME CAFFEINE WITH THIS PRODUCT MAY EXPERIENCE SERIOUS ADVERSE HEALTH EFFECTS. INDIVIDUALS WHO ARE SENSITIVE TO THE EFFECTS OF CAFFEINE SHOULD CONSULT A LICENSED HEALTH CARE PROFESSIONAL BEFORE CONSUMING THIS PRODUCT. DO NOT CONSUME SYNEPHRINE OR CAFFEINE FROM OTHER SOURCES, INCLUDING BUT NOT LIMITED TO, COFFEE, TEA, SODA OR OTHER DIETARY PRODUCTS OR MEDICATIONS CONTAINING CAFFEINE OR PHENYLEPHRINE. DO NOT USE FOR MORE THAN 8 WEEKS. CONSULT WITH YOUR PHYSICIAN PRIOR TO USE IF YOU ARE TAKING MEDICATION, INCLUDING BUT NOT LIMITED TO MAOI INHIBITORS, ASPIRIN, ANTIDEPRESSANTS, NON-STEROIDAL ANTI-INFLAMMATORY DRUGS OR PRODUCTS CONTAINING PHENYLEPHRINE, EPHEDRINE, PSEUDO-EPHEDRINE, OR OTHER STIMULANTS. CONSULT YOUR PHYSICIAN PRIOR TO USE IF YOU HAVE A MEDICAL CONDITION, INCLUDING BUT NOT LIMITED TO, HEART, LIVER, KIDNEY, OR THYROID DISEASE, PSYCHIATRIC OR EPILEPTIC DISORDERS, DIFFICULTY URINATING, DIABETES, HIGH BLOOD PRESSURE, CARDIAC ARRHYTHMIA, RECURRENT HEADACHES, ENLARGED PROSTATE OR GLAUCOMA. DISCONTINUE 2 WEEKS PRIOR TO SURGERY OR IF YOU EXPERIENCE RAPID HEART BEAT, DIZZINESS, SEVERE HEADACHE OR SHORTNESS OF BREATH. IN CASE OF ACCIDENTAL OVERDOSE, SEEK PROFESSIONAL ASSISTANCE OR CONTACT A POISON CONTROL CENTER IMMEDIATELY. AVOID ALCOHOL WHILE TAKING THIS PRODUCT. EXCEEDING RECOMMENDED SERVING MAY CAUSE SERIOUS ADVERSE HEALTH EFFECTS, INCLUDING HEART ATTACK AND STROKE. IMPROPER USE OF THIS PRODUCT MAY BE HAZARDOUS TO A PERSON'S HEALTH.

To report adverse effects call FDA's MedWatch at 1-800-332-1088
SUGGESTED USE
Assess tolerance by taking one (1) capsule upon waking on an empty stomach.  Once tolerance has been assessed, take one (1) additional capsule 4-6 hours after your first serving.  Do not exceed more than 3 capsules per day.