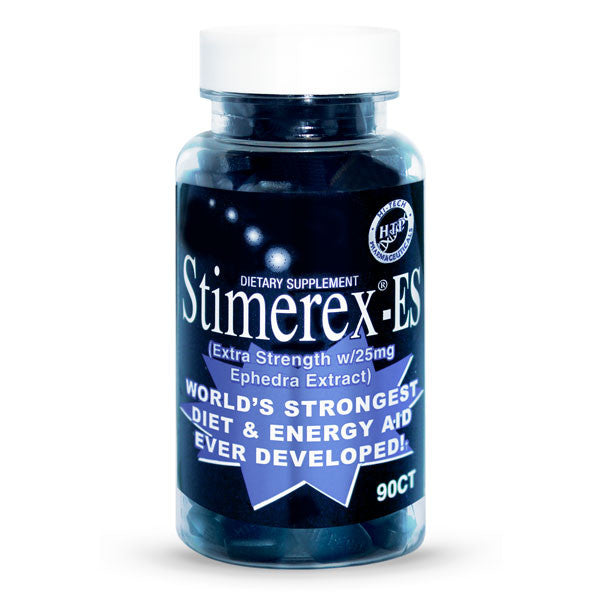 Most Potent No-Crash Energy-Boost Supplement Ever Created!
Contains 25mg Thermo-Z® brand Ephedra Extract – Legal in All 50 States!
The #1 Selling Ephedra Containing Diet & Energizer!
Stimerex®-ES (Extra Strength), with its distinctive black diamond-shaped tablet, is a Hi-Tech weight loss and energy enhancement supplement – highly recognized for its unrivaled mega energy boost and is available to help anyone needing to lose weight. Stimerex®-ES contains 25mg Thermo-Z™ brand ephedra extract with an energy core that revolves around a fine-tuned configuration of Hi-Tech's Thermo-Rx® stimulant-based phenylethylamine alkaloids from Senegalia Berlanderi. The entire host of the select ingredients in Stimerex-ES® have been incorporated specifically to accomplish one primary goal, which Stimerex®-ES accomplishes better than any other energy-boost product. Stimerex-ES® is designed as the Diet & Energizer. Stimerex®-ES will have you flying wide open with energy and helping you get shredded!
SUPPLEMENT FACTS
These statements have not been evaluated by the Food and Drug Administration. This product is not intended to treat, cure, diagnose, or prevent any disease. 
This product should not be used in place of or as a substitute for recommendations by your healthcare professional. No clinical study has been performed on Lipodrene®. These statements are based upon the active ingredients: Senegalia Berlandieri, Ephedra, Theobromine, Yohimbe, Citrus aurantium, Caffeine, Green tea, 5-HTP, 5-methoxytryptamine and Phenylethylamine.
WARNING: this product can raise your blood pressure and interfere with other drugs you may be taking. Talk to your doctor about this product.
Warning: Not for use by individuals under the age of 18 years. Do not use if you are pregnant or nursing. This product can raise blood pressure and interfere with other drugs you may be taking. Talk to your doctor about this product.
Individuals who consume caffeine with this product may experience serious adverse health effects. Individuals who are sensitive to the effects of caffeine should consult a licensed health care professional before consuming this product. Do not consume Synephrine or caffeine from other sources, including but not limited to; coffee, tea, soda or other dietary products or medications containing caffeine or phenylephrine. Do not use for more than 8 weeks. Consult with your physician prior to use if you are taking medication, including but not limited to MAOI inhibitors, aspirin, antidepressants, nonsteroidal anti-inflammatory drugs or products containing phenylephrine, ephedrine, pseudoephedrine, or other stimulants. Consult your physician prior to use if you have a medical condition, including but not limited to; heart, liver, kidney, or thyroid disease, psychiatric or epileptic disorders, difficulty urinating, diabetes, high blood pressure, cardiac arrhythmia, recurrent headaches, enlarged prostate or glaucoma.
Discontinue 2 weeks prior to surgery or if you experience rapid heartbeat, dizziness, severe headache or shortness of breath. In case of accidental overdose, seek professional assistance or contact a poison control center immediately. Avoid alcohol while taking this product. Exceeding recommended serving may cause serious adverse health effects, including heart attack and stroke. Improper use of this product may be hazardous to a persons health.
SUGGESTED USE
Take 1-2 tablets in the morning and 1 tablet after lunch.  Do not exceed 4 tablets in a 24 hour period.