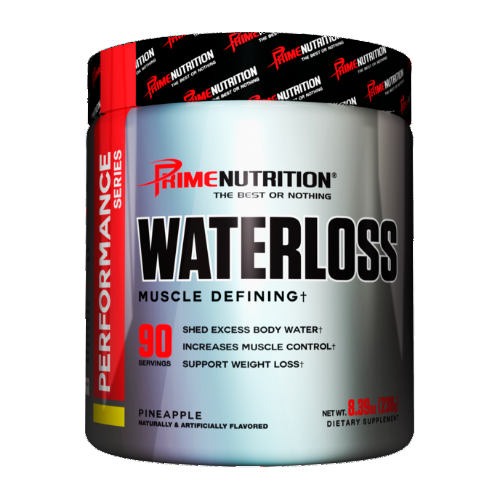 Drain the body of ugly and uncomfortable subcutaneous water retention that plagues so many. Waterloss is one of the strongest natural diuretics formulas anywhere available legally on shelves. This highly effective and safe product has been shown to eliminate water from the body which can cause discomfort in the joints, stomach, lower back, and surrounding areas. 
Waterloss is to be used only when needed for both men and women looking to drop a handful of pounds in a short amount of time. This is perfect for someone stressed out over a big event such as a wedding, anniversary, or reunion. Athletes who are required to make a certain weight will find great use in Waterloss for rapid weight loss. And bodybuilders and fitness competitors will enjoy Waterloss to enhance vascularity and hardness on the day of competition. 

Stop using dangerous prescription medicines for this purpose and switch to something much more safe and just as effective. Waterloss does not cause cramping or other electrolyte imbalances which can cause light headedness and cramping. Trust that when you use Waterloss the results are consistent and the side-effects are non-existent. 
Waterloss FAQ
What is Waterloss?
                Waterloss by Prime Nutrition is a state of the art formula designed to help increase muscle definition and promote a leaner more streamlined physique. It helps by pulling excess water from places like under your skin and between cells into places your body can actually use it or eliminate/expel it entirely.
How do I take Waterloss?
                Waterloss is simple to use, and it tastes great! Just mix 1 serving with 8-12oz of cold water (or more as determined by your taste preference) and drink it any time of day. Since Waterloss is completely stimulant free (NO caffeine!), it can be consumed morning noon or night. For best results, up to 2 servings of Waterloss can be taken each day.
Who should use Waterloss?
                Waterloss is an incredibly versatile product that can be used by anyone ranging from someone simply wanting to look leaner to a competitive athlete who wants to dial in their physique for their next competition. Simply put, if you want to look leaner and have more muscle definition, Waterloss is for you!
Should I drink more or less water than usual while using Waterloss?
                Waterloss is designed to eliminate excess water or bloat your body may be storing, and one of the ways to kick start this is surprisingly to drink MORE water than you currently are. While it may sound counterintuitive, our body is designed to hold on to water since dehydration is one of the worst things we can experience. By drinking more water than normal, you alert your body to the excess water present around you (ie; you're not going to be in a desert with no water any time soon), and allow the powerful compounds within Waterloss to begin to work their magic.
Should I be concerned about cramping or any side effects while on Waterloss?
                Waterloss contains 100% all-natural active ingredients to help make sure it provides you with not only impressive results, but results that are side effect free as well. Always follow suggested dosing protocols to maximize benefits and eliminate unwanted side effects.
Does Waterloss contain any carbohydrate, calories, or sugar?
                Despite it tasting so good, Waterloss is completely calorie, carbohydrate, and sugar free! This makes it a perfect option for those using a Keto, IF (intermittent fasting), or any reduced calorie diet.
Is there anything I can use from Prime Nutrition to help increase my Waterloss results?
                For the fastest possible weight loss results, consider stacking Yohimbine, CLA, and Omega with Waterloss. They combine for a synergistic and extremely effective weight loss combination.
For more information you can always email us at CS@PrimeNutrition.com. Make sure to follow us on Instagram: @PrimeNutra for exclusive deals and content.