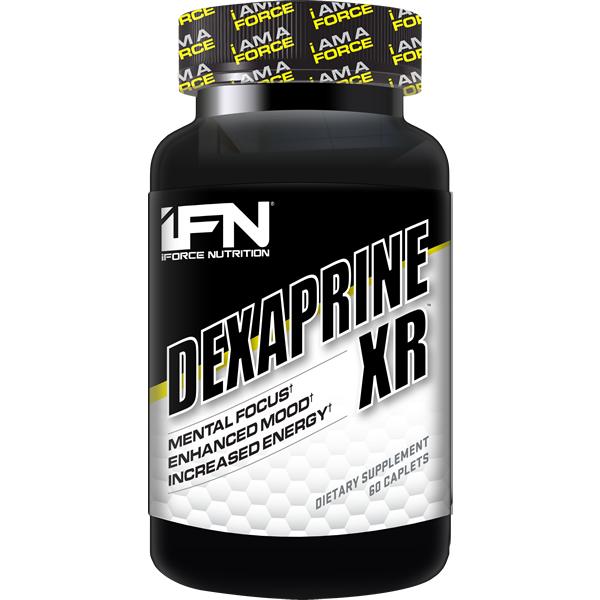 DIETS DON'T HAVE TO BE TORTURE!
Losing weight isn't easy. No matter who you are, dieting is a long and difficult road that tests us in both our physical and mental willpower. When most people diet they notice that they feel tired, extremely hungry, are unable to concentrate, and even act unlike themselves due to the bad mood that intense diets can put us in. With dieting being this hard, it's no wonder why so many fail to reach their weight loss goals. However, it doesn't have to be this way. With one small change to your routine you could feel all day long energy instead of being tired. With one little change to your diet plan you can suppress your insatiable appetite, focus on the tasks at hand like never before and actually be in a better mood than normal. Everyone needs help in life, and Dexaprine XR™ is your lifeline to make sure you not only achieve you goals, but far surpass them.
Increase Your Energy & Increase Your Fat Loss!
When we diet, we undoubtedly reduce the number of calories we eat each day. This reduction in calories is quite literally a reduction in energy, so we find it hard to feel ANYTHING but tired. Being in a constant state of lethargy forces us to perform worse at work, school, and of course our sport of choice. Being anything but 100% on our game is not acceptable, so that is why Dexaprine XR™ absolutely obliterates any chance of you feeling down and tired while you diet. Featuring novel compounds that elicit a massive CNS (Central Nervous System) up regulation, you will feel a surge of energy flow through you like never before. This energy is what you need to ensure you don't skip a workout. and that your diet doesn't fail.
In The Zone Focus Keeps You On the Right Path!
By providing your body and brain with potent neurochemicals, Dexaprine XR™ will allow you to not only focus on the task at hand, but will give you razor sharp focus attention to detail. Imagine hitting the gym, the field, or the court, and being so in tune with what you need to do to succeed that you not only reach your goals for that day, but far exceed them. This focus is what separates diet failure from diet success.
Stop Being Hungry All The Time!
While more energy and focus are absolutely paramount to a successful diet, many of us find that the one major pot hole in our road to success in undoubtedly how hungry we become. If you suffer from an insatiable appetite and are tired of allowing your stomach to dictate your fat loss, it's time to understand that you don't have to be hungry anymore. Dexaprine XR™ has unique compounds that have not only been shown to help you lose weight, but also significantly reduce your appetite. In fact, Dexaprine XR™ appetite control is so powerful; many people will have to literally remind themselves to eat. Stop craving sweets, fatty foods, and everything that isn't on your diet and take control. Dexaprine XR™ will reduce your food cravings so efficiently you may find yourself laughing at others you see eating unhealthily. If only they knew your little secret!
There Is Only One Answer!
To completely address every single issue with dieting, there is only one solution, one secret, and that is Dexaprine XR™. It's time you had the body you've been working so hard towards achieving. It's time you stopped having to worry about being hungry around the clock. It's time you no longer have to be concerned that you won't have the energy you need to power through your workouts. It's time for you to be able to look bad food head on and say "I'm not hungry". Combining the effects of quality whole foods with Dexaprine XR™ is the best way to ensure your hard work and focus really pays off for a whole new you.
SUPPLEMENT FACTS
WARNING: NOT FOR USE BY INDIVIDUALS UNDER THE AGE OF 18 YEARS. DO NOT USE IF YOU ARE PREGNANT OR NURSING. THIS PRODUCT CAN RAISE BLOOD PRESSURE AND INTERFERE WITH OTHER DRUGS YOU MAY BE TAKING. TALK TO YOUR DOCTOR ABOUT THIS PRODUCT.
INDIVIDUALS WHO CONSUME CAFFEINE WITH THIS PRODUCT MAY EXPERIENCE SERIOUS ADVERSE HEALTH EFFECTS. INDIVIDUALS WHO ARE SENSITIVE TO THE EFFECTS OF CAFFEINE SHOULD CONSULT A LICENSED HEALTH CARE PROFESSIONAL BEFORE CONSUMING THIS PRODUCT. INDIVIDUALS WHO ARE SENSITIVE TO THE EFFECTS OF CAFFEINE SHOULD CONSULT A DOCTOR BEFORE CONSUMING THIS PRODUCT. DO NOT CONSUME SYNEPHRINE OR CAFFEINE FROM OTHER SOURCES, INCLUDING BUT NOT LIMITED TO, COFFEE, TEA, SODA OR OTHER DIETARY PRODUCTS OR MEDICATIONS CONTAINING CAFFEINE ORåÊ PHENYLEPHRINE. DO NOT USE FOR MORE THAN 8 WEEKS. CONSULT WITH YOUR PHYSICIAN PRIOR TO USE IF YOU ARE TAKING MEDICATION, INCLUDING BUT NOT LIMITED TO MAOI INHIBITORS, ASPIRIN, ANTIDEPRESSANTS, NONSTEROIDAL ANTI-INFLAMMATORY DRUGS OR PRODUCTS CONTAINING PHYLEPHRINE, EPHEDRINE, PSEUDOEPHEDRINE, OR OTHER STIMULANTS. CONSULT YOUR PHYSICIAN PRIOR TO USE IF YOU HAVE A MEDICAL CONDITION, INCLUDING BUT NOT LIMITED TO, HEART, LIVER, KIDNEY, OR THYROID DISEASE, PSYCHIATRIC OR EPILEPTIC DISORDERS, DIFFICULTY URINATING, DIABETES, HIGH BLOOD PRESSURE, CARDIAC ARRHYTHMIA, RECURRENT HEADACHES, ENLARGED PROSTATE OR GLAUCOMA. DISCONTINUE 2 WEEKS PRIOR TO SURGERY OR IF YOU EXPERIENCE RAPID HEART BEAT, DIZZINESS, SEVERE HEADACHE OR SHORTNESS OF BREATH. IN CASE OF ACCIDENTAL OVERDOSE, SEEK PROFESSIONAL ASSISTANCE OR CONTACT A POISON CONTROL CENTER IMMEDIATELY. AVOID ALCOHOL WHILE TAKING THIS PRODUCT. EXCEEDING RECOMMENDED SERVING MAY CAUSE SERIOUS ADVERSE HEALTH EFFECTS, INCLUDING HEART ATTACK AND STROKE. IMPROPER USE OF THIS PRODUCT MAY BE HAZARDOUS TO A PERSON‰۪S HEALTH.
To report adverse effects, call FDA's MedWatch at 1-800-332-1088
SUGGESTED USE
Take 1 caplet on an empty stomach before breakfast. For those who wish to experience extreme results, a second caplet may be consumed 4-8 hours later. Do not exceed 2 caplets in any 24 hour period.