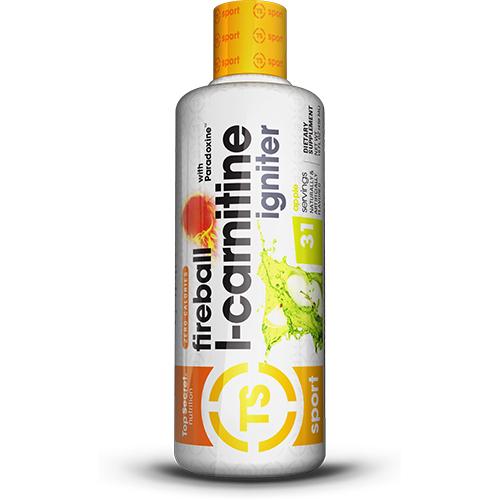 Top Secret Nutrition's FIREBALL L-Carnitine Liquid Igniter is designed to help you functionally utilize calories for energy and improve exercise performance. This preworkout product hits you hard and fast, leaving you feeling it working right away. Research suggests that the ingredients contained in FIREBALL L-Carnitine Liquid Igniter will help:
– Prevent muscle loss during dieting*
– Enhance athletic performance*
– Increase blood flow to muscles*
– Help stimulate metabolism*
– Improve mood, cognitive ability and memory*
Whether you are exercising, trying to lose weight or both, this product is a critical supplement to achieving your goals. Although stimulant free, Fireball will definitely make you sweat. Start by taking a half serving to assess your tolerance.
Suggested Use:
Take (1) on servings [1 Tablespoon] 30 minutes before exercise
Warning:
KEEP OUT OF REACH OF CHILDREN. Do no use if you are pregnant, nursing or if you have a medical condition.  Do not use if seal or package is broken.  Consult a physician prior to use if you are taking any medication. This product shold not be used by individuals under the ages of 18.  Discontinue use (2) two weeks prior to surgery. Store in a cool, dry place.