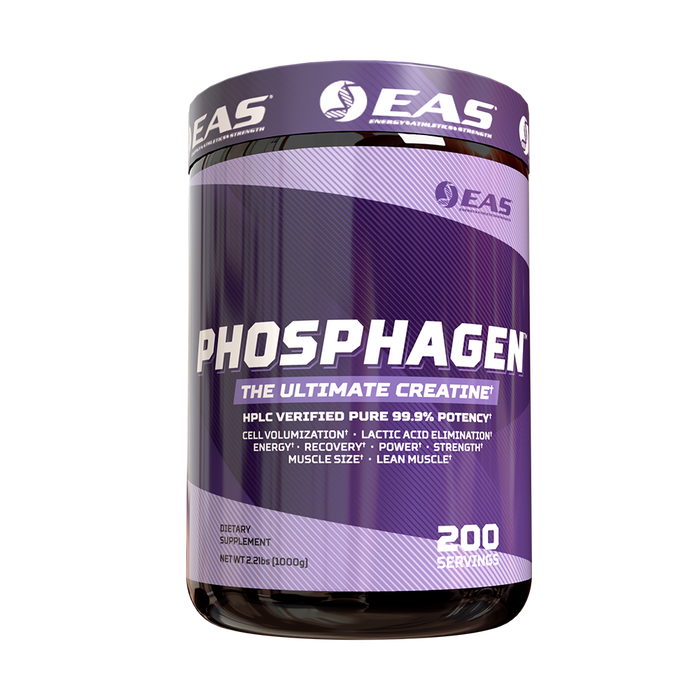 Certified Pure 99.9% Potency
Muscle Size†
Cell Volumization†
Lactic Acid Elimination†
Creatine is a natural substance that is synthesized in the body from three amino acids, L-Arginine, L-Glycine and L-Methionine. It's also found naturally in certain foods. EAS® has a proprietary manufacturing process which eliminates unwanted by-products often found in lesser quality creatine. Inferior raw materials and manufacturing processes that are not continuously monitored or adapted to the product, result in impurities such as creatinine, dicyandiamide, dihydrotriazine and thiourea.†

Creatine is a non-essential amino acid that is an important source of chemical energy for muscle contraction. Once creatine reaches the muscles, it's converted into Phosphocreatine (creatine phosphate), and ultimately becomes the body's primary energy source; Adenosine Triphosphate. In your skeletal muscles, where you generate energy for movement, creatine participates in the complex muscle contraction process to maximize muscle energy. Adenosine Triphosphate, abbreviated to ATP, is a key fuel for muscle contraction, the repetition exercises you perform when bodybuilding. The more ATP you make available to your muscles the more energy is created to power both aerobic and anaerobic energy demanding sports like sprinting, rowing and bodybuilding. Normal levels of ATP allow you only a few seconds of high intensity energy.†
Warning: Pregnant or lactating women, diabetics, hypoglycemics, and people with known medical conditions (including kidney or liver disease) should consult with a licensed physician and/or pharmacist prior to taking this product. Do not exceed recommended dosage.
These statements have not been evaluated by the Food and Drug Administration. This product is not intended to treat, cure, diagnose, or prevent any disease.
SUPPLEMENT FACTS
For 1000g bottle
SUGGESTED USE
Take 1 serving (5 grams) daily with 12-16 oz. of water or non-acidic juice.