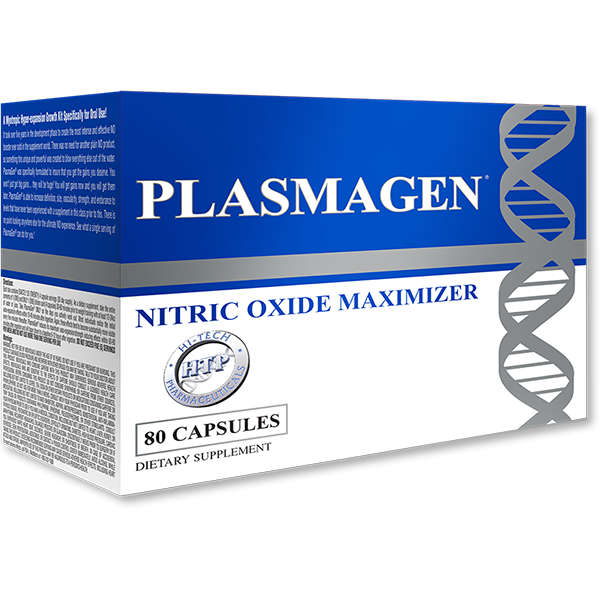 Incredible Muscle Pump & Fullness
Lean Muscle Mass, Energy & Strength
Never Before Seen Roadmap Vascularity
Enhances Oxygen & Nutrient Delivery
PLASMAGEN® is a one-of-a-kind NO product that gives users never before felt levels of muscle pump and roadmap vascularity. Hi-Tech has placed the power for maximum hypertrophic muscle growth in your hands.
PLASMAGEN® GROWTH KIT OFFERS USERS:
PLASMAGEN® is the first product ever designed to not only increase NO levels, but also completely inhibit and deactivate the Arginase Enzyme before it can negatively impact our gains. Nitric Oxide (NO) sports nutrition has become the largest sports nutrition product category. Yet, despite dozens of "advancements" in NO supplementation, traditional NO sports nutrition still remains flawed for one fundamental reason. This flaw can easily be detected by simply inspecting the formulations in NO products across-the-board throughout the sports nutrition industry. The formulations in these products demonstrate a failure on the part of other supplement companies to understand and address the most efficacious means to serve L-arginine up on a platter for the production of NO, which is to incapacitate the arginase enzyme. L-Arginine is also the target of agmatine and L-Citrulline, but are a more direct pathway to get there. Arginase is the enzyme that breaks down arginine, which is a problem for NO supplements because arginine is the source of NO production. With the exception of Hi-Tech Pharmaceuticals, no other supplement company has figured out how to tackle the arginase problem head-on... to take arginase out of the NO equation!
In discovery, science often finds purpose. Many novel scientific discoveries have been encountered while in search of unrelated applications. Hi-Tech initially developed  S-(2-boronethyl)-L-cysteine HCl (BEC) as sexual stimulant when perfecting its formulation for Stamina-Rx®, only to discover that these compounds had amazing muscle-building properties. Hi-Tech utilizes BEC, the novel arginase inhibitor in, Plasmagen® to flank the high dosage of Inositol Citrulline Silicate as Nitro-Rx® and to take arginase head-on by rendering it useless. This leaves an abundance of L-arginine uncompromised in the muscle pool to create a wealth of NO, leading to maximum muscular vasodilation.
 About 30-45 minutes after you take your serving of PLASMAGEN®, the powerful Arginase Inhibitor begins its blockade of arginase to your blood stream. From here, novel and never before seen NO precursors including Nitro-Rx™ begin rapidly converting into the muscle building and power enhancing chemical we so desperately desire. While these levels begin to rise, the body responds by sending higher levels of Arginase to the conversion sites in an attempt to decrease NO levels. PLASMAGEN® counteracts this with the two most potent Arginase inhibitors found in nature, effectively forcing your body into the most anabolic state possible. 
With NO now beyond supra-physiological levels, the rest of the PLASMAGEN® formula begins modifying key bodily processes to fully capitalize on the intense muscle building state. Muscle cells are enriched in strength & power enhancing Adenosine-5-Triphopshate, which works to quickly increase glycogen production. This increase in glycogen causes the muscles to swell in both size and leverageable strength, allowing you to push genetic limitations and force muscle fiber into explosive growth. 
PLASMAGEN® is so powerful its effects will be noticed the very first time you use it and will continue to increase and compound with every additional dosing. Due to this extreme power, PLASMAGEN® should never be used more than 5x per week as the rapid onset of new muscle mass requires intense recovery periods. To help facilitate this recovery, increase lean protein consumption from whole foods or powdered protein to make sure muscles get the nutrition necessary to grow.
SUPPLEMENT FACTS
THE SCIENCE
SUGGESTED USE
As a dietary supplement, take 4 capsules 30-60 minutes prior to weight training with at least 12-24oz of water or juice. Take PlasmaGen® ONLY on the days you actively work out. Most individuals notice the initial vaso-expansion effects within 15-45 minutes after ingestion. Again, these effects tend to become substantially more visible every few minutes thereafter. PlasmaGen® induces its maximum vaso-expansion/strength inducing effects within 60-90 minutes after ingestion and will taper down to a baseline 6-12 hours after ingestion. DO NOT EXCEED FIVE (5) SERVINGS PER WEEK AND DO NOT USE MORE THAN ONE SERVING PER DAY.