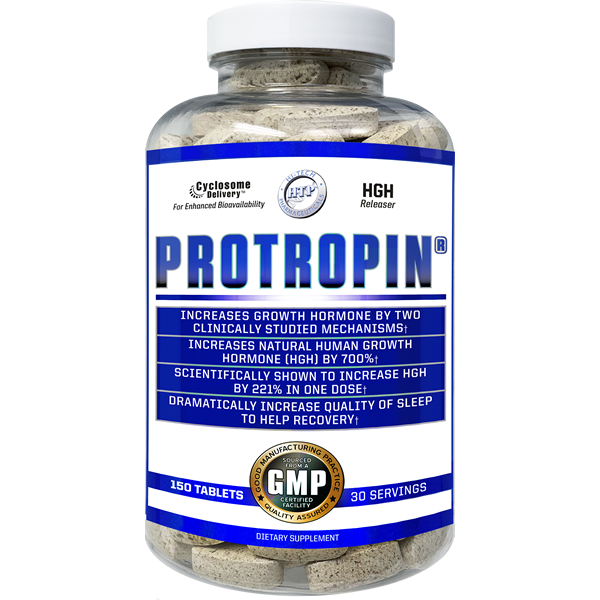 Protropin® is based upon 2 clinical studies that are some of the first to evaluate qualitatively, the secretion of growth factors following stimulation by oral compounds. The results showed that oral administration of a combination of 1200mg of L-arginine-2-pyrrolidone-5-carboxylate +1200mg of (S)-2,6-Diaminocaproic acid provoked a release of pituitary somatotrophin (a growth hormone secreted by the anterior pituitary gland) and insulin. This phenomenon was reproducible and the growth hormone secreted in response to this stimulation had biological activity (as demonstrated by radioreceptor assay and somatomedin induction). Hi-Tech Researchers found this amazing study when looking for other compounds that would benefit Hi-Tech's Cyclosome® Technology on compounds that are not usually very orally bioavailable. This study was performed at the University of Rome and determined that a combination of 1200mg of L-arginine-2-pyrrolidone-5-carboxylate +1200mg of (S)-2,6-Diaminocaproic acid, when given orally to a group of male volunteers was more than 10 times more effective at increasing blood levels of human growth hormone than when taking only the amino acid L-Arginine by itself, which yields an average net GH increase of more than 700%! According to these researchers, "We could demonstrate that the association of the two amino acids does result in the release of biologically active GH able to affect peripheral cellular receptors and thus cell growth in general."

The second clinical study was performed by USP Labs on PowerFull®, which was scientifically shown to Increase HGH by 221% in one dose! It also significantly increased natural Testosterone by at least 53%! This study also showed a dramatic increase in the quality of sleep and increased recovery. Protropin® greatly enhanced Mind/Muscle connection by increasing dopamine. The dopamine neurons of the brain are activated and that are essential for normal movement and sensory-motor integration. Protropin® also can improve athletic movements and increase contractile strength with weight training. There are also specific triterpene steroid saponins and sapogenins from Chlorophytum Borivilianum that are adaptogens. In short, Hormonal Adaptagens like the specific alkaloids found in PowerFull®, will make your body more efficient in response to stress. You will release more testosterone, less estrogen and basically "supercharge" your hormonal output!

Protropin® is a Revolutionary breakthrough in the field of oral HGH Enhancement that helps in the following ways: Increase in Muscle Mass; Increase in Strength; Increase in Physical Endurance; Increase in Recovery from Exercise; Anti-fatigue through lactic acid buffering; and Increased tolerance to workload. Protropin® is the next major advancement in growth hormone category with its foundation firmly built on the successes of those revolutionary original formulas, the Rome Study and the USP Labs study on PowerFULL®. Protropin® delivers all the benefits of these clinically researched HGH ingredients, with added benefits of utilizing Cyclosome® Technology to increase bioavailability of both original formulas.†
SUPPLEMENT FACTS
CYCLOSOME™ DELIVERY
Cyclosome™ Delivery:
Hi-Tech Pharmaceuticals is an Innovator in the Bodybuilding and Prohormone industry being one of the first companies to introduce many of the prohormones that have entered the marketplace over the last decade. Researchers at Hi-Tech recently developed a proprietary process called Cyclosome™ Technology. This one-of-a-kind technology brought to you by the leaders in Prohormones involves the entrapment of hydrophobic prohormones and other Testosterone boosting compounds in the form of water-soluble Prohormone–cyclodextrin (CD) complex in liposomes has been investigated as a new strategy to combine the relative advantages of CDs and liposomes into one system, namely Prohormone-in-CD-in-liposome systems called Cyclosome's™. You can think of all this in terms of a 'Trojan Horse,' passing through the liver unharmed and intact. As opposed to being destroyed in the liver like all other hormonal products on the market, past and present. This new Cyclosome™ technology allows the 'Trojan Horse' to deliver prohormones and testosterone boosters to the systemic circulation by the intestinal lymphatic route, circumventing first-pass inactivation in the liver for the very first time. Almost all previous Oral capsules and tablets manufactured to increase testosterone — including Testosterone itself — are involved in the "first pass affect" which renders the active compounds virtually useless.
Cyclosome™ Technology — the most advanced liposomal delivery technology ever developed for bioavailability is the answer to getting poorly absorbed Testosterone boosting compounds and legal prohormones into the body so they can work !
For Cyclosome™ preparation, an overall understanding of the interaction between CDs and lipid
components of liposomes is necessary for this complex. Hi-Tech has developed a Double-loading technique, which is a revolutionary strategy to prohormone release and increase prohormone-loading capacity. The Cyclosome™ approach can be useful in increasing prohormone solubility and vesicles stability, in controlling the in vivo fate of hydrophobic compounds and in avoiding burst release of prohormones from the vesicles. To obtain a stable Cyclosome™, the CDs should have a higher affinity to prohormone molecules compared with liposomal membrane lipids. Cyclosomes prepared by Hi-Tech's double-loading technique are the most advanced targeted prohormone delivery system ever developed because they have a fast onset action with prolonged prohormone release process and the significantly enhanced prohormone-loading capacity.
SUGGESTED USE
Take five (5) tablets daily prior to bedtime.  Optimal effectiveness should be felt within 1 to 3 weeks of continuous uninterrupted consumption.
WARNING
This product is only intended to be consumed by healthy adults 18 years of age or older.  Pregnant or nursing women should not use this product.  Consult with your health care provider before using this product, especially if you are taking any prescription, over the counter medication, or if you have any pre-existing medical condition.  Discontinue use and immediately consult your health care professional if you experience any adverse reaction to this product.  Do not exceed recommended serving.  KEEP OUT OF REACH OF CHILDREN