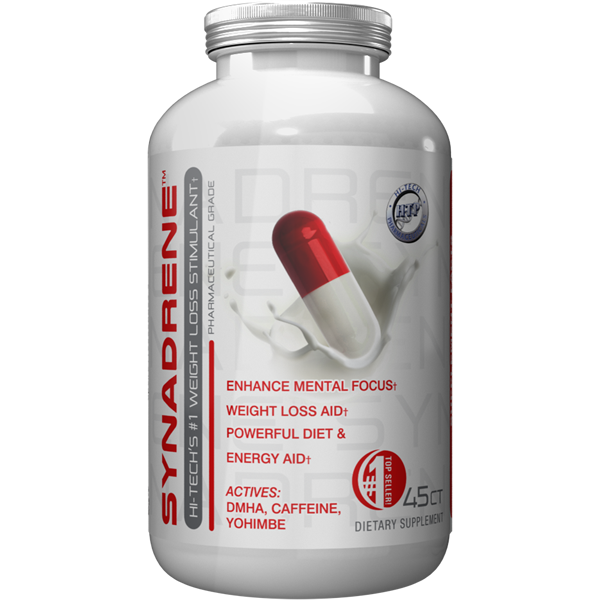 Researchers at Hi-Tech Pharmaceuticals familiar with the effectiveness of one of the most popular supplements ever that was pulled from shelves, "reverse engineered" it. They created - Synadrene™ which combines the power of Sulbutamine and 2-aminoisoheptane with other high caliber intensifiers and has created what will undoubtedly be the greatest weight loss product of all time. Synadrene™. Why settle for "New & Marginal" when you could have "New & Improved"?
SUPPLEMENT FACTS
THE SCIENCE
Another Blockbuster Weight Loss Aid from the Diet & Energy Specialists - Hi-Tech Pharmaceuticals
When anyone losing weight turns to a supplement to add to their regimen, they want some very specific actions – Increased Energy, Long Lasting, Strong but Subtle and No Energy Drop Off at the end of the day. Industry leading Synadrene™ gives you all of these and more with every dose. Providing clean energy that is usable all day, but not in a way that is distracting after your workout is where Synadrene™ really shines. No exaggerated feeling of nervousness or distraction. Instead these ingredients give you incredible usable energy to get you through long cardio or high intensity training sessions. The feeling is certainly terrific but unlike many other products on the market, is not overwhelming. When Synadrene™ starts to wind down, it does it smoothly and cleanly. No sudden crash or sluggishness ensues, just a peaceful feeling of tremendous accomplishment from your days training.
These statements have not been evaluated by the Food and Drug Administration. This product is not intended to treat, cure, diagnose, or prevent any disease. This product should not be used in place of or as a substitute for recommendations by your healthcare professional. WARNING: NOT FOR USE BY INDIVIDUALS UNDER THE AGE OF 18 YEARS. DO NOT USE IF YOU ARE PREGNANT OR NURSING. THIS PRODUCT CAN RAISE BLOOD PRESSURE AND INTERFERE WITH OTHER DRUGS YOU MAY BE TAKING. TALK TO YOUR DOCTOR ABOUT THIS PRODUCT. INDIVIDUALS WHO CONSUME CAFFEINE WITH THIS PRODUCT MAY EXPERIENCE SERIOUS ADVERSE HEALTH EFFECTS. INDIVIDUALS WHO ARE SENSITIVE TO THE EFFECTS OF CAFFEINE SHOULD CONSULT A LICENSED HEALTH CARE PROFESSIONAL BEFORE CONSUMING THIS PRODUCT. INDIVIDUALS WHO ARE SENSITIVE TO THE EFFECTS OF CAFFEINE SHOULD CONSULT A DOCTOR BEFORE CONSUMING THIS PRODUCT. DO NOT CONSUME SYNEPHRINE OR CAFFEINE FROM OTHER SOURCES, INCLUDING BUT NOT LIMITED TO, COFFEE, TEA, SODA OR OTHER DIETARY PRODUCTS OR
MEDICATIONS CONTAINING CAFFEINE OR PHENYLEPHRINE. DO NOT USE FOR MORE THAN 8 WEEKS. CONSULT WITH YOUR PHYSICIAN PRIOR TO USE IF YOU ARE TAKING MEDICATION, INCLUDING BUT NOT LIMITED TO MAOI INHIBITORS, ASPIRIN, ANTIDEPRESSANTS, NONSTEROIDAL ANTI-INFLAMMATORY DRUGS OR PRODUCTS CONTAINING PHYLEPHRINE, EPHEDRINE, PSEUDOEPHEDRINE, OR OTHER STIMULANTS. CONSULT YOUR PHYSICIAN PRIOR TO USE IF YOU HAVE A MEDICAL CONDITION, INCLUDING BUT NOT LIMITED TO, HEART, LIVER, KIDNEY, OR THYROID DISEASE, PSYCHIATRIC OR EPILEPTIC DISORDERS, DIFFICULTY URINATING, DIABETES, HIGH BLOOD PRESSURE, CARDIAC ARRHYTHMIA, RECURRENT HEADACHES, ENLARGED PROSTATE OR GLAUCOMA. DISCONTINUE 2 WEEKS PRIOR TO SURGERY OR IF YOU EXPERIENCE RAPID HEART BEAT, DIZZINESS, SEVERE HEADACHE OR SHORTNESS OF BREATH. IN CASE OF ACCIDENTAL OVERDOSE, SEEK PROFESSIONAL ASSISTANCE OR CONTACT A POISON CONTROL CENTER IMMEDIATELY. AVOID ALCOHOL WHILE TAKING THIS PRODUCT. EXCEEDING
RECOMMENDED SERVING MAY CAUSE SERIOUS ADVERSE HEALTH EFFECTS, INCLUDING HEART ATTACK AND STROKE. IMPROPER USE OF THIS PRODUCT MAY BE HAZARDOUS TO A PERSON'S HEALTH.
TO REPORT ADVERSE EFFECTS CALL FDA'S MEDWATCH AT 1-800-332-1088
SUGGESTED USE
Take 1 capsules three times daily.  Do not exceed 4 capsules in any 24-hour period.